Friends, sushi & red wine
Este foi um fim de semana passado no Porto, a minha linda cidade que visito a cada duas ou três semanas. Há já alguns anos que me habituei a quase não ter amigos lá; a quantidade de amigos meus que emigraram ou que vieram viver para Lisboa é realmente enorme. Claro que há excepções, mas poucas.
I spent this weekend in O'Porto, my beautiful hometown that I try to visit every two or three weeks. For the last two or three years I've grown accustomed to the idea if having almost no remaining friends there, since most of them left to live and work in other countries or in Lisbon, like myself. Of course there are exceptions, although few.
Mas este fim de semana foi diferente dos que tenho passado no Porto.
Para começar, reservei a tarde de sábado para fazer umas compras com a M. para o nosso novo projecto juntas sobre o qual já fui dando pistas, sem no entanto revelar nada sobre ele. Neste post já vão perceber mais ao menos do que se trata. 🙂
But this weekend was a bit different from the others I spend in O'Porto. To start the weekend, I decided that my Saturday afternoon would be dedicated to shopping with my friend M. for a new project we're creating. I already gave you some tips about it here on the blog, but nothing too revealing. Keep reading this post so you can see what it will be about. 🙂
Depois das compras- também na companhia da minha mãe-, merecemos um lanche especial numa das maravilhosas pastelarias do Porto.
After our shopping spree we went to one of Porto's amazing bakeries with my mom for a well-deserved snack.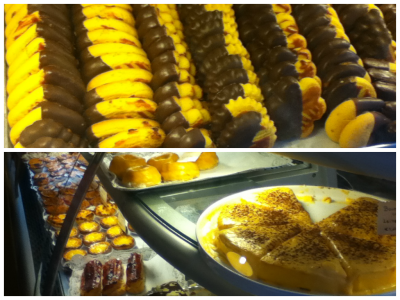 Com tudo isto, quando acabamos já eram quase horas de jantar, pelo que me dirigi à baixa para um jantar com uma amiga que não via há séculos. Já não jantávamos juntas à sei lá quanto tempo, muito menos as duas sozinhas e as razões que nos juntaram desta vez não foram as melhores, mas fico feliz por ter estado lá para ela, embora um bocado "atrasada".  
With all this, it was almost dinner time by the time we finished, so I headed downtown to have dinner with a friend who I had not seen for a long time.
We hadn't have dinner together for a long time, much less alone and the reasons that have joined us this time were not the best, but I'm glad to have been there for her, although a tad "late".
A seguir, fomos a um bar na Rua do Almada, chamado Almada Minha. O conceito é espectacular: é um cookie bar! Como não gostar? Claro que nós, satisfeitas com o nosso jantar de sushi, pedimos apenas dois copos de vinho tinto (que coisa tão adulta, hã?), que apreciamos entre conversas no 2º piso do bar, mesmo ao lado de uma das janelas com vista para esta que é uma das minhas ruas favoritas do Porto.
After dinner, we went to a bar on Rua do Almada called Almada Minha. The concept is fantastic: it's a cookie bar! What's not to like about that? We were satisfied with our sushi dinner and skipped the cookies, but we did order two glasses of red wine (how grown up of us!) to enjoy between talks next to a window from where we could see the street that is one of my favourites in O'Porto.
E para nossa sorte ontem foi o primeiro dia de uma exposição giríssima chamada Marias Florbelas, que consiste nestas bonequinhas feitas de papel e todas chamadas Maria, com um segundo nome diferente, mas todas com um BI próprio. A exposição é inspirada na obra literária de Florbela Espanca. Podem ver mais info sobre a exposição aqui.
We were lucky to be there the first day of an uber cool exhibition called Marias Florbelas which consists of these cute dolls make of paper. Each one has her own ID and all of them are inspired by the literary work of a portuguese poet called Florbela Espanca.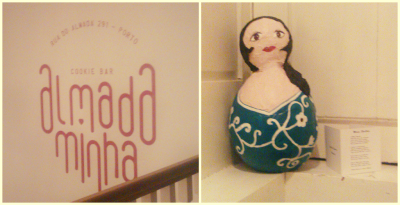 Já a tarde de hoje foi dedicada a algum trabalhinho inicial para o novo projecto. Por esta foto da M. a trabalhar, o que vos parece que vai ser? 🙂
Today's afternoon was dedicated to a little work for the new project. Can you tell what we're working on by this photo of hard working M.?
Bem, aqui têm um preview!
Well, here's a sneak peek!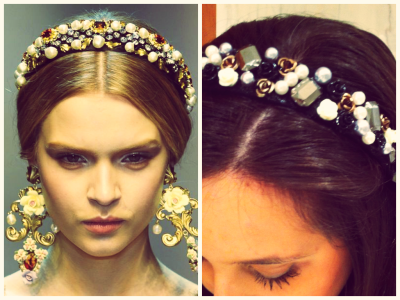 Esquerda: bandolete da Dolce&Gabbana
Direita: bandolete feita pela M.
Left: Dolce&Gabbana headband
Right: a headband made by M.
E vocês, o que fizeram este fim de semana? Estou à procura de mais sítios giros para visitar nos próximos, no Porto e em Lisboa. Aceito sugestões. 🙂
So, what did you do this weekend? I'm already looking for more cool places to visit next time in Lisbon and in O'Porto. I'm taking suggestions. 🙂