Vi este 2015 Reading Challenge no Infinito mais um e quase nem hesitei em participar, mas depois do entusiasmo inicial, regressei a uma realidade em que, muito provavelmente, não o conseguirei cumprir.
Mas não me deixei desencorajar e, em vez de desistir completamente, decidi criar o meu próprio desafio.
É assim que, com a ajuda do meu fiel amigoGoodreads (já me seguem por lá), me proponho a ler um total de, pelo menos, 20 livros em 2015. Grandes, pequenos, portugueses, estrangeiros, livros físicos, ebooks, ficção, não-ficção, não interesse. O importante é ler. 🙂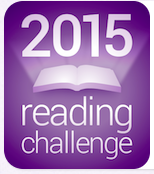 20 livros não é muito, mas são certamente mais do que os que li em 2014, e um número que considero realista, conhecendo a minha vida e o meu dia-a-dia.
Ainda é cedo para saber o que 2015 me reserva em termos de leituras, mas acho que uma wishlist é sempre saudável, portanto, aqui ficam alguns dos livros que adoraria ler em 2015:
A Dança dos Dragões, George R.R. Martin
Not That Kind of Girl, Lena Dunham
Is Everyone Hanging Out Without Me?, Mindy Kaling
Persuasão, Jane Austen
The Hobbit, J.R.R. Tolkien
The Ladies of Grace Adieu and Other Stories, Susanna Clarke
Lady of Avalon, Marion Zimmer Bradley
Lua de Mel, Banana Yoshimoto
Baba Yaga Pôs um Ovo, Dubravka Ugrešić
As Raparigas que Sonhavam Ursos, Margo Lanagan
The Vampire Lestat, Anne Rice
Porno, Irvine Welsh
O Mago: Aprendiz, Raymond E: Feist
O Gato de Uppsala, Cristina Carvalho
Miss Peregrine's Home for Peculiar Children, Ransom Riggs
#Girlboss, Sophia Amoruso
Tea Time for the Traditionally Built, Alexander McCall Smith
Não prometo que vou ler todos os livros desta lista; posso mudar de ideias a qualquer momento. O objectivo é somente ler os 20 livros a que me propus mais acima. 🙂
Por enquanto estou a ler o Not that Kind of Girl e um livro mais técnico chamado A Brief Guide to Selling Digital Products.
E vocês, o que vão ler este ano? Algum livro que esteja de pedra e cal na vossa wishlist de leitura?  Se quiserem juntar-se a mim neste desafio, estão à vontade! Quantos mais, melhor, e mais motivados ficaremos. 😉
Vou criar a hashtag #20booksin2015 no Instagram para melhor documentar este desafio e torná-lo mais oficial.
Boas leituras!