27 Things to do Before 28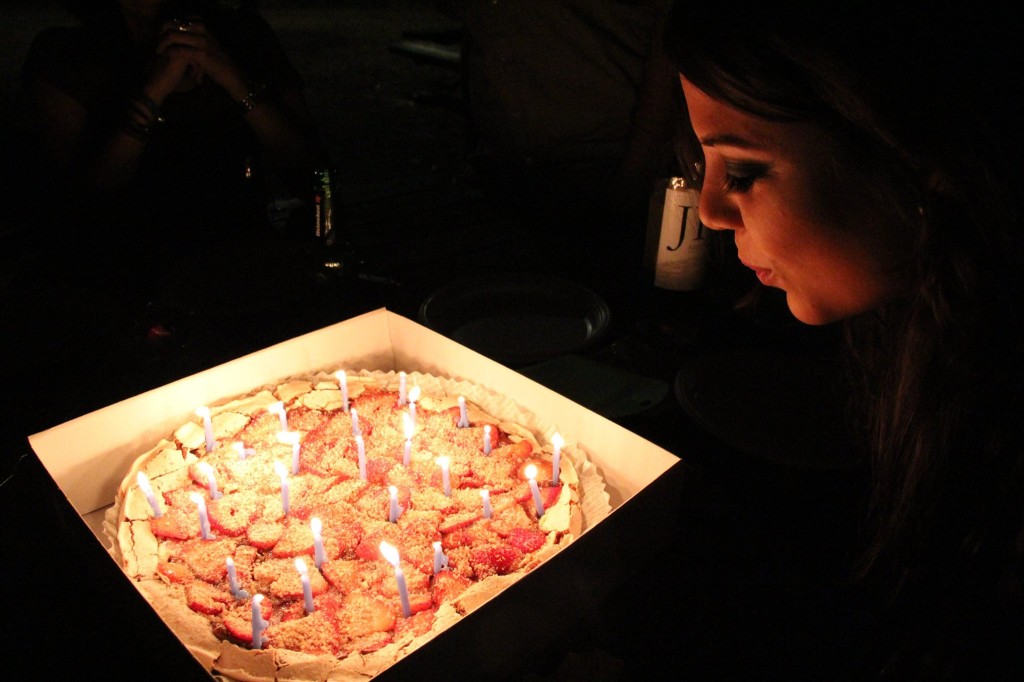 Descobri há pouco tempo a verdadeira razão pela qual fico tão entusiasmada no meu aniversário. Os meus amigos, familiares e namorado não me entendem e, confesso, nem eu entendia muito bem. A razão é simples: sinto o dia do meu aniversário como uma autêntica passagem de ano. Nunca sinto nada quando é dia 31 de Dezembro, nem sequer 1 de Janeiro e agora já sei porquê. Cada ano é diferente e o dia 29 de Junho marca o início de um novo ano para mim. Um novo ano em que me posso reinventar, melhorar e evoluir. E este é o meu compromisso antes do dia 29 de Junho de 2015.
I recently discovered the real reason behind feeling extra excited on my birthday. My friends, family and boyfriend don't understand why this happens and honestly neither did I. But the reason is actually quite simple: I feel like my birthday IS the real New Year. I always feel numb on December 31st or January 1st and now I know why. Each year is different and the 29th of June marks the beginning of a new year for me. A new year in which I can reinvent, improve and evolve into a better version of myself. And this is my commitment to myself before June 29, 2015.


27 Coisas a Fazer antes dos 28
1. Ver Arctic Monkeys
2. Evoluir mais a NatusPurus
3. Fazer mais uma viagem
4. Escrever uma história (já nem vou dizer "um livro")
5. Comprar uma câmara melhor
6. Tirar um curso de fotografia
7. Ir a mais workshops de produtos naturais – expandir o meu conhecimento na área
8. Fotografar mais com a Lomo
9. Gastar menos dinheiro em coisas parvas
10. Aumentar significativamente as minhas poupanças para fazer uma viagem fantástica
11. Passar dois dias sozinha numa pousada ou hotel pitoresco em Chaves ou Ponte de Lima – escrevi este objectivo neste livro também
12. Arranjar um ou mais side-jobs
13. Ler mais livros
14. Cozinhar mais e fazer mais sopas (dá trabalho mas vale tanto a pena e eu gosto tanto…)
15. Acabar finalmente de decorar as paredes da sala
16. Continuar a aprender mais "skills"
17. Apostar mais neste blog e ajudá-lo a crescer
18. Fazer novos amigos
19. Não perder contacto com os actuais
20. Mudar para um ginásio mais perto de casa para que possa finalmente levá-lo mais a sério!
21. Começar a tomar medidas práticas para ultrapassar o meu medo de tubarões
22. Continuar a aceitar pequenos desafios que me obriguem a sair da zona de conforto
23. Ser menos tímida quando sou fotografada por outros
24. Iniciar ou juntar-me a um 'book club'
25. Pôr todas as séries em dia (Pretty Little Liars, Once Upon a Time, In the Flesh, 2 Broke Girls, etc.)
26. Conseguir UMA experiência paranormal bem sucedida… (JD, eu sei que vais perceber)
27. Fazer outra tatuagem
Cake by O Bolo da Marta
27 things to do before 28
1. Go see Arctic Monkeys live
2. Invest more time and efforts into evolving NatusPurus (my bath and body small business)
3. Travel more (one more trip at least)
4. Write a short story (I'm not even going to say "book" anymore…)
5. Get a better camera
6. Take a Photography course
7. Take more workshops on natural products
8. Take more photos with my Lomo cameras
9. Spend less money on silly things
10. Increase my savings so I can go on another trip
11. Spend two days on my own in an inn or cute little hotel in Chaves or Ponte de Lima (Portugal) – I also wrote this goal in this book
12. Get one or more side-jobs
13. Read more books
14. Cook more frequently and make more soup (I hate it and it's a lot of work, but I love soup plus it's healthy)
15. Finish my living room's decor
16. Continue to learn new skills (thirst for knowlodge)
17. Take this blog more seriously and grow it
18. Make new friends
19. Try not to lose touch with my current friends
20. Choose a gym closer to home so I can finally start taking it more seriously!
21. Start taking steps towards conquering my fear of sharks
22. Keep accepting all kinds of challenges that force me to step out of my comfort zone
23. Be less shy when others take photos of me
24. Start or join a book club
25. Finish watching all missed episodes/seasons of Pretty Little Liars, Once Upon a Time, In the Flesh, 2 Broke Girls, etc.
26. Have ONE successful paranormal experience (my friend JD knows what I'm talking about)
27. Get a new tattoo