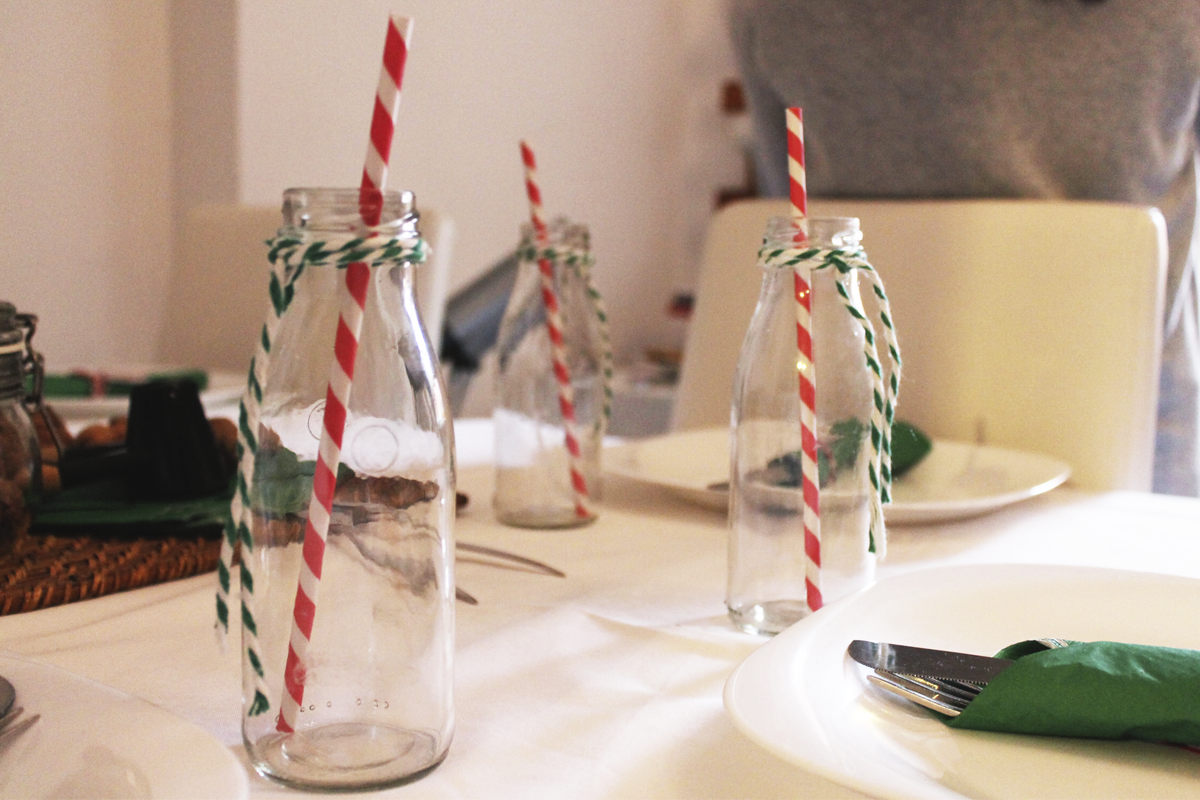 Projecto 5 em Ponto – Almoço de Natal
Cinco bloggers, boa comida, bebidas deliciosas, conversas interessantes e toda uma tarde dedicada a uma das nossas épocas favoritas do ano: o Natal.
Claro que a pergunta "qual foi o vosso melhor Natal?" tinha que surgir. Falou-se das melhores memórias dos tempos de infância, de crenças inerentes à nossa ingenuidade da altura e, no geral, daquilo de que mais gostamos na quadra natalícia.
Então decidimos em conjunto que seria mais giro para os leitores de cada um dos nossos blogs se, em vez de sermos nós próprias a descrever o nosso melhor Natal, seria outra de nós a fazê-lo. Ou seja, a minha história de Natal não está aqui, mas sim no blog Daydreams, da Catarina; por sua vez, a da Joana, do Happiness in the Box, veio para o Joan of July. Leiam-na toda (é daquelas que nos enche instantaneamente de espírito natalício) abaixo, acompanhada por algumas das fotos do nosso almoço de Natal do Projecto 5 em Ponto. 🙂
"Todos os Natais acabam por ser inesquecíveis, é uma época tão mágica que acaba sempre por acontecer alguma coisa que nos marca. Quando me recordo da minha infância, os dias que guardo com mais carinho são, sem dúvida, os Natais passados com a minha família favorita.
Durante muitos anos eu e os meus pais rumámos a Guimarães para a casa dos meus tios para passarmos o Natal, não éramos muitos, mas estava lá a tia mais especial e a prima que era como uma irmã. Garanto-vos que aquilo que eu sentia era de uma felicidade extrema, queria que todos os dias do ano fossem assim.
Até que as doze badaladas soassem eu andava aos pulos no sofá (subir e descer o sofá até deixar toda a gente louca!) enquanto assistia ao Bravo Bravíssimo. Num dos Natais (devia ter uns 8/9 anos) escrevi na carta ao Pai Natal que queria uma boneca gigante (quase do meu tamanho) e se apertássemos uma espécie de "bomba" mexia a boca e tudo.
Este Natal foi diferente porque o Pai Natal chegou mais cedo! Ainda não era meia noite e começamos a ouvir um barulho enorme que vinha das escadas, toda a gente na sala ficou estática a olhar para a porta e, de repente, vimos que das escadas veio aos trambolhões a boneca que eu tinha pedido ao Pai Natal.
A partir daquele dia nunca mais ninguém me pode dizer que o Pai Natal não existia, eu tinha a certeza, eu vi, TODA a gente estava na sala não podia haver truques nem enganos, o Pai Natal tinha-se enganado nas horas, adiantou-se e enviou a minha prenda pelas escadas. O meu coração palpitava de alegria e excitação.
Passado alguns anos (já não acreditava no Pai Natal, infelizmente!) tive que descobrir o mistério e o que aconteceu só se explica com a magia do Natal, sem dúvida. Os meus pais colocaram a boneca no cimo das escadas e provavelmente alguma corrente de ar ou assim fez com que a caixa se mexesse e pronto, caiu.
Um Natal que jamais esquecerei e sei que, quando for mãe, vou contar esta história aos meus filhos. Apesar de não concordar em enganar as crianças, acho que toda esta magia à volta do velhote de barbas brancas é tão boa e bonita que quero que os meus filhos acreditem no Pai Natal durante muito tempo e sei que, se forem como a mãe, não ficarão chateados quando descobrirem que foram enganados durante alguns anos :)"
– Joana, Happiness in the Box
Não é tão querida a história da Joana? Eu adorei partilhá-la aqui. Sabem, estou a adorar este nosso projecto e estou super entusiasmada com as nossas próximas datas festivas! Já estou cheia de ideias para a próxima. 😉
Até lá, se quiserem ler a minha história de Natal, dêem um saltinho até ao Daydreams. 😉
Sigam os links para lerem também as histórias da Catarina, da Ana e da Margarida.
Só ainda não vos vou desejar Feliz Natal porque ainda nos "vemos" até lá! 😉