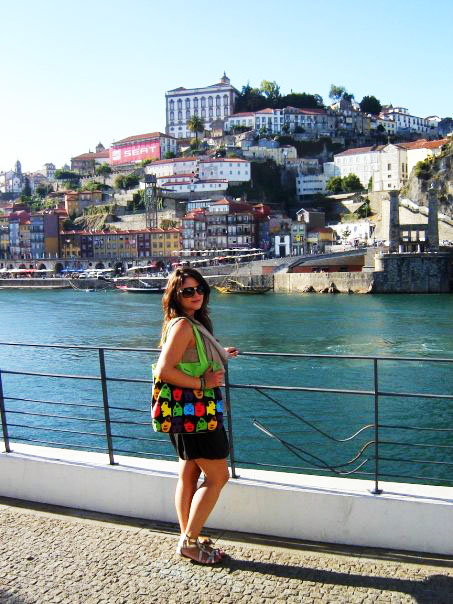 Mudar de cidade dentro do mesmo país é um desafio do qual muito poucos falam. Fala-se e escreve-se muito acerca da emigração, do período de adaptação ao novo país e cultura e, eventualmente, toca-se no assunto das saudades da Terra-Mãe.
Nasci e cresci no Porto, cidade que amo e sempre amarei de coração. Em 2005 mudei-me para Lisboa, meio por capricho, meio por questões amorosas e outras ligeiramente académicas. Tinha eu 18 anos acabados de fazer.
Ter-me mudado para uma cidade onde só conhecia uma única pessoa e onde estava 100% responsável por mim própria (se não contarmos com o aspecto financeiro da coisa, uma vez que ainda era sustentada pela entidade parental), fez-me crescer (mais) rápido e ganhar instintos que talvez antes não possuísse.
Não vou dizer que a adaptação foi difícil porque não foi muito. Fiquei alojada numa residência de estudantes em que literalmente toda a gente estava na mesma situação que eu: deslocada. As únicas vezes que me lembro de terem sido particularmente duras foi um dia antes da mudança e na primeira semana, quando tive que voltar a casa porque descobri que a faculdade ainda não estava aberta.
Essa primeira vez que voltei a casa foi bizarra: passei o tempo inteiro da viagem de regresso Lisboa-Porto a desejar nunca ter saído de casa. Não é que não gostasse de Lisboa, mas a segurança estava em casa, no Porto. Penso que isto não seja muito difícil de entender, mesmo para quem nunca passou pelo mesmo.
Passando à frente uns anos (quase 9, para ser mais exacta), cá estou eu e pensar em tudo o que aconteceu desde 2005. Sinceramente acho que é a primeira vez que o faço. Ridículo, não é? Mas a verdade é que, se durante a adolescência pensar em algo que me causava algum conflito interno me dava um prazer quase doente (era fixe ser-se dark e atormentado, estão a ver?), hoje em dia o meu cérebro bloqueia conscientemente esse tipo de sentimentos.
Já não gosto de não me sentir feliz.
E de vez em quando lá acontece.
Aconteceu ontem quando me apercebi que estou quase há 9 anos em Lisboa, metade do tempo de vida que vivi no Porto, de onde escrevo o presente post.
O que há de triste (ou pelo menos melancólico) nisso é que há coisas que nunca mudaram desde que para lá fui morar: a luta pela minha identidade enquanto portuense. Ou seja, continuo a sentir-me meia sem terra.
Hoje voltei a aperceber-me disso quando apanhei um táxi e o senhor me perguntou na brincadeira se "vai para Lisboa?".
E quando lá estou, dizem-me "tu já és mais de Lisboa do que do Porto!" como se me estivessem a fazer um elogio.
Saibam que não estão. Algo em mim ferve por dentro quando ouço essas palavras. Mas cá no Porto também me dizem o mesmo em relação a Lisboa.
É difícil…
Mas hoje algo se passou, algo fez clique dentro de mim enquanto percorria as ruas da zona dos Clérigos a seguir a um jantar de aniversário. Sozinha, guiada pelas luzes que iluminaram a minha infância e adolescência, deixei-me ficar ainda, sem pressa, a deambular. E nesse momento, sem duvidar do caminho que devia seguir e por onde deveria ir, voltei a sentir-me em casa. Não aquele ser meio expatriado que "nem é carne nem é peixe".
E nesta altura do ano o Porto é especialmente apetecível. Apesar de não ser a maior fã de festas de Santos Populares, tenho que admitir que a cidade me parece diferente até nestes dias que antecedem o São João. Há mais movimento nas ruas, mais risos, mais música. Ainda que seja pimba, não interessa. Sente-se uma alegria diferente, algo que nem sempre está presente no resto do ano, nem sequer no Natal.
E enquanto escrevo este post na varanda da casa da minha mãe, junto a velas (e a sentir um briol desgraçado), consigo ainda ouvir a música popular das festas de aquecimento pré-S.João. Num daqueles momentos que parecem só existir para nós, a música pimba parou e no seu lugar ouviu-se durante um minuto o início de uma música de Portishead, "Roads".
Moving to another city in the same country is a challenge few people speak about. I see and read a lot about the hardships of emigration and the adjustment period to the new country and culture. Of course homesickness is also meantioned in this context.
I was born and raised in O'Porto (Portugal), a city I love and always will love with all my heart. In 2005 I moved to Lisbon for love and academic reasons but also in a bit of a whim. I just turned 18.
Having moved to a new city where I only knew one person and where I was 100% responsible for myself (even though I still wasn't financially independent from my parents) made grew up a lot faster and gain a lot of instincts I knew I didn't have before.
Now I'm not going to say adjusting to a new city was super difficult because it wasn't. I stayed in a student dorm where literally everyone was in the exact same situation as me: away from home. The two only times I remember being particularly tough were the day before the move and a moment during the first week when I had to come back home after finding out my classes weren't starting for another week or so.
That first time I returned home was a little weird: a spent the whole trip (3 and ½ hours) wishing I had never left home. Not that I didn't like Lisbon but my safety was elsewhere. I think this part is easy to understand even if you never went through something similar.
Fast forward a few years (almost 9 to be exact) and here I am thinking about everything that happened in this city since 2005. Honestly, I think this is the first time I actually thought about it like this. Ridiculous, isnt't it? But the truth is that I don't crave sadness like I did when I was a teenager and feeling sad and tormented was uber cool. Nowadays my brain seems to consciently block such feelings.
I no longer like to feel unhappy.
But sometimes it happens.
It happened yesterday when I realised I've been living in Lisbon for 9 years, half of the life I've lived in O'Porto.
What is sad (or at least a bit melancholic) about that is that some things never changed since I've moved here: the struggle for my identify as someone from the city of O'Porto. Sometimes it's still easy to feel like I don't belong anywhere.
Today I felt that again when I caught a cab (in O'Porto) and the taxi driver asked me "are you going to Lisbon?" – judging me for my accent, of course.
And when I am in Lisbon people tell me I am now more like them then like the people from O'Porto. They always say this as a compliment (trust me, it isn't). And in O'Porto people tell me I am more from Lisbon then from there, which also pissed me off.
It's difficult sometimes…
But today something happened, something clicked inside my head while I walked alone after leaving a birthday dinner. Guided by the street lights I have known since my childhood I stayed behind a little, feeling more at home. Yes, today I felt more at home in this city. For a few moments I didn't feel like I didn't belong.
And in this time of the year O´Porto looks more beautiful than ever. There a lot of local festivities dedicated to the Popular Patron Saints of the city during which there is a lot more laughs and more music outside. It is possible to feel the joy in the air and there is definitely a different energy that can't be felt in any other time of the year, not even on Christmas.
And while I'm writing this post on the balcony of my mother's house with only a few lit candles to light this space I can still hear the music coming from one of the little parties on the street. This is one of those few and rare moments that seem to exist just for us. The popular music stopped and in its place – for a minute – I could hear the song "Roads" by Portishead. Only this city has moments like these. This is one that I'm going to remember for a long time. For everything it meant.
 Porto, June 21st 2014