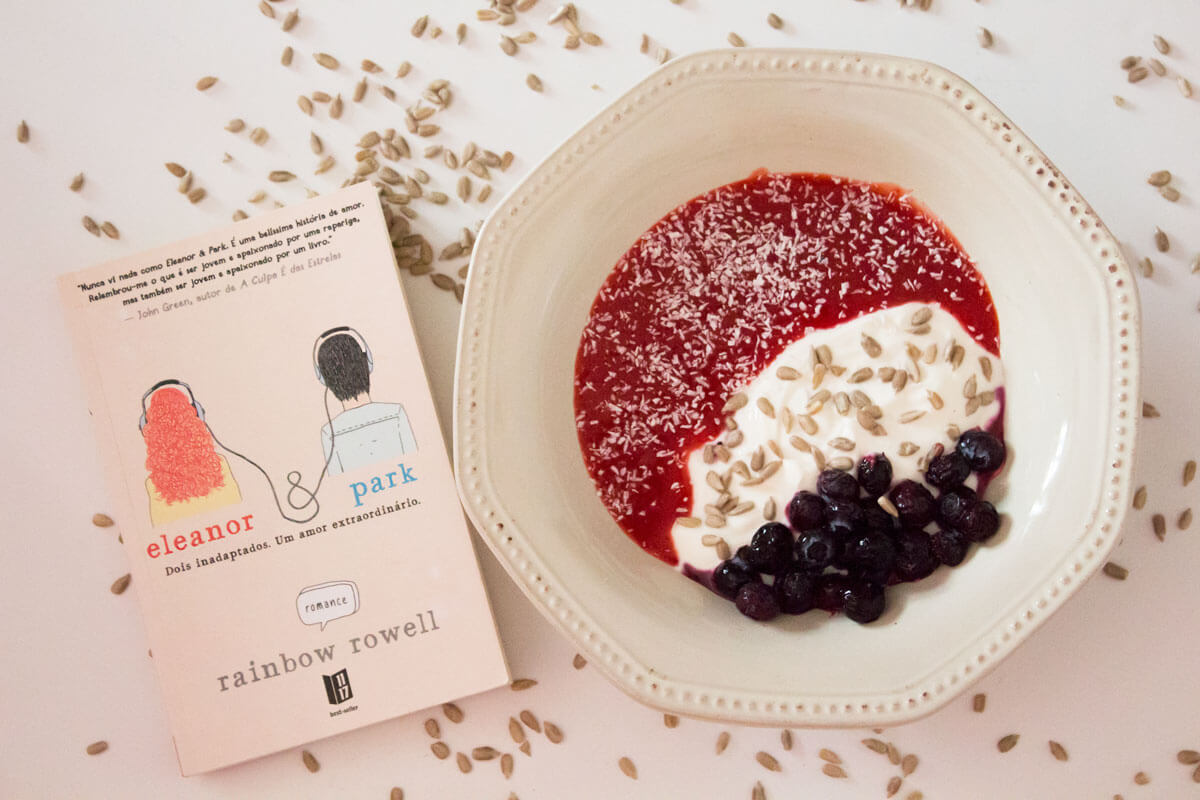 Páginas Salteadas: um pequeno-almoço fresco como o amor juvenil
Para ser muito sincera com vocês e ao contrário dos posts anteriores do Páginas Salteadas, desta vez tive alguma dificuldade em defender a relação entre a minha receita e o livro deste mês. Fiquem comigo que eu conto-vos tudo. 🙂
O livro que escolhemos este mês – Eleanor and Park, de Rainbow Rowell, era um que já estava na minha wishlist literária há bastante tempo, por isso fiquei deliciada quando se tornou no livro escolhido para o mês de Maio. Contudo e porém, como a vida não é perfeita e me atrasei ligeiramente com a leitura do livro anterior, a leitura do Eleanor and Park também não está tão avançada como eu gostaria.
Portanto, a minha receita deste mês surgiu da minha interpretação do livro segundo as primeiras impressões que tive do mesmo.
O livro
"Eleanor was right. She never looked nice. She looked like art, and art wasn't supposed to look nice; it was supposed to make you feel something."
Eleanor and Park é um romance juvenil com dois protagonistas muito carismáticos; Eleanor, uma rapariga ruiva e rechonchuda de dezasseis anos, e Park, um rapaz américo-coreano, dois 'misfits' que se conhecem no autocarro da escola no primeiro dia de Eleanor naquela escola. A princípio, não parecem ter nada em comum, mas gradualmente começam a formar uma ligação maravilhosa através dos livros e das mixtapes. Sim, que a história passa-se entre 1986 e 1987 (uma delícia para mim que adoro os anos 80). 🙂
No entanto, para além do carácter fresco e aparentemente leve do livro, são também abordados temas mais pesados – e intemporais – que fazem parte da nossa sociedade. Alguns deles são a violência doméstica, o bullying e o tema da auto-estima, tão falado nos dias de hoje.
A receita
A contrastar com a receita do mês passado, esta é simples, fresca e descomplicada como o amor juvenil que acontece entre duas pessoas que, por um qualquer milagre do Universo, foram feitas para se descobrirem neste mundo tão grande.
Por vezes, quando estamos com quem amamos, as coisas são simplesmente… simples. Os silêncios não são desconfortáveis, não sentimos necessidade de os preenchermos com palavras e histórias aleatórias; simplesmente gostamos de estar e de existir juntos. O amor verdadeiro e juvenil é assim: fácil, delicioso, fresco e dispensa explicações: "é o que é" e o que tem que ser tem muita força, como se costuma dizer.
É assim que vejo também este pequeno-almoço tão fácil de preparar, tão delicioso, fresco e ainda nutritivo!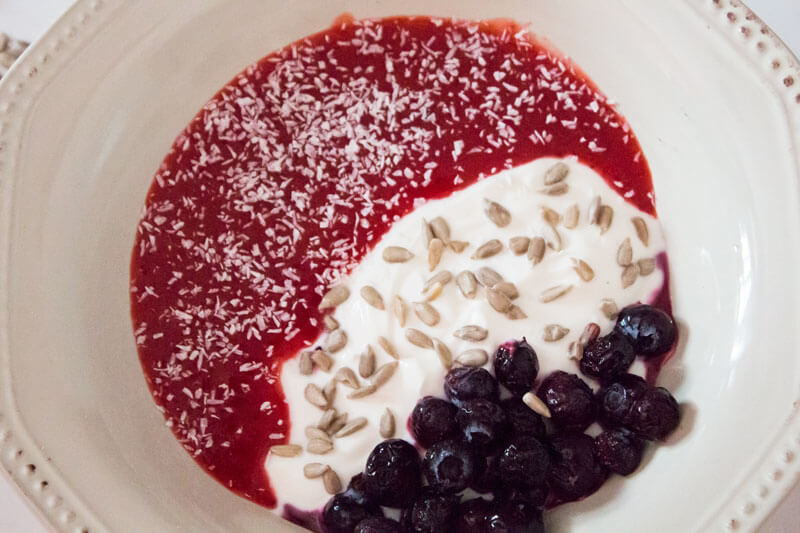 Ingredientes:
iogurte grego (ou outro que prefiram);
morangos transformados em polpa com a varinha mágica/blender;
outro tipo de fruta – escolhi mirtilos
sementes (à escolha)
coco ralado (opcional)
Não vou explicar como preparar porque não há absolutamente dificuldade nenhuma! Nem sequer qualquer regra; dá para inventar como quiserem, com a fruta que quiserem, as sementes, o iogurte, tudo é personalizável. O importante é saber-vos bem, fazer-vos bem e dar-vos mais energia para viverem o dia com toda a intensidade, alegria e energia possíveis. 🙂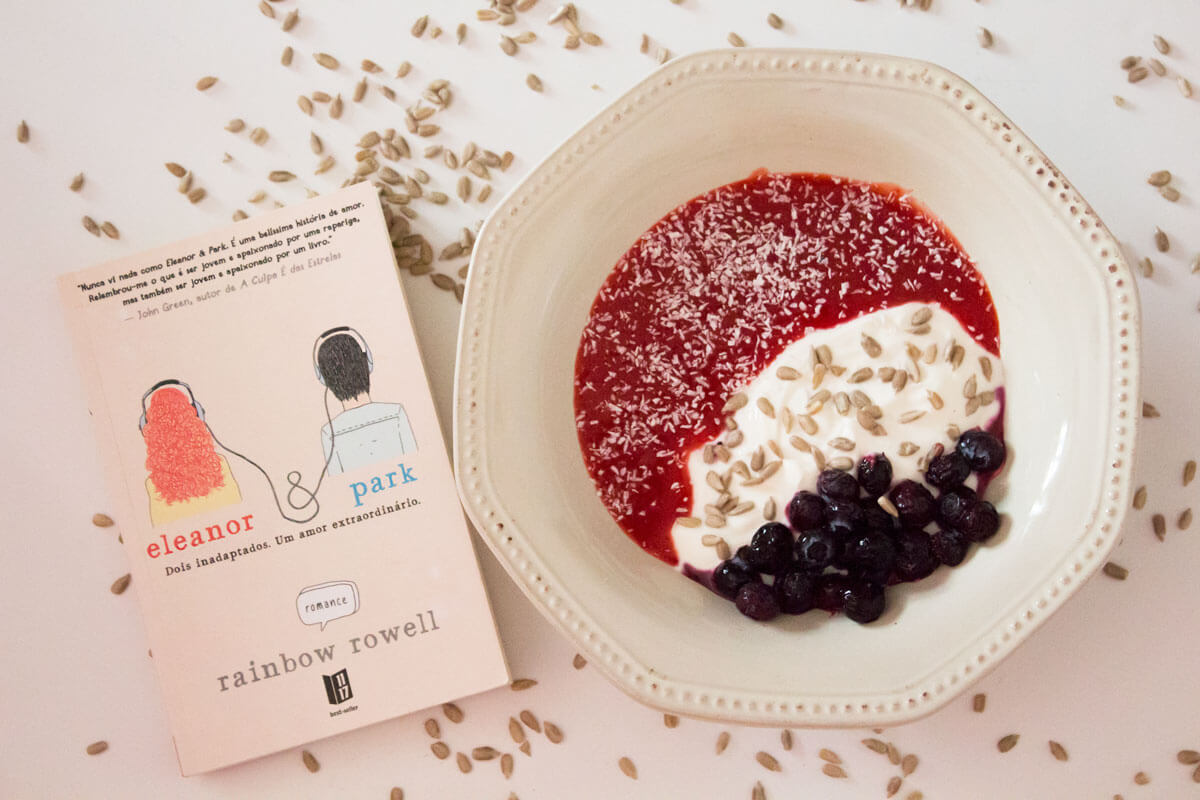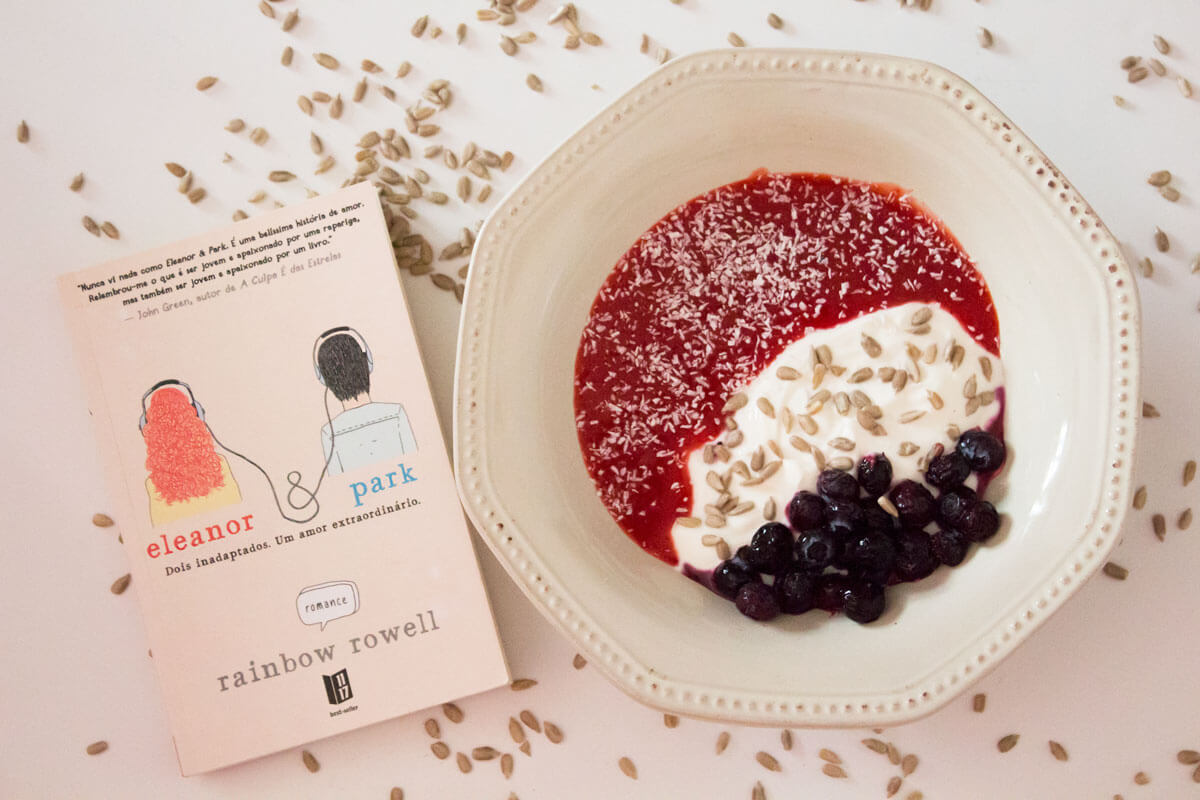 "You can be Han Solo," he said, kissing her throat. "And I'll be Boba Fett. I'll cross the sky for you."
Bem, espero que tenham gostado desta receita do Páginas Salteadas e que tenham ficado com curiosidade em ler este livro maravilhoso que eu vou acabar de ler entretanto. Se quiserem ver as minhas receitas anteriores basta clicarem aqui. E, já agora, não se esqueçam de ir espreitar as receitas da Joana, da Vânia e da Andreia! 😀
Joana Clara, Às Cavalitas do Vento
Vânia Duarte, Lolly Taste
Andreia Moita, Andreia Moita Blog