O Verão é uma época de renovação, de cores vibrantes e de sabores frescos. É uma época em que a natureza está no seu auge, com flores a desabrochar e frutas a amadurecer. Esta estação do ano é também uma fonte de inspiração para muitos, eu incluída. Sempre adorei esta estação e, este ano, partilho convosco uma receita que fiz no ano passado (ainda na casa antiga), mas que ainda não tinha partilhado por aqui.
Esta receita capta perfeitamente a essência do Verão, com a leveza e a luxúria do chocolate branco, aligeirado com a frescura da fruta, inspirada pelo encantador livro "The Complete Book of the Flower Fairies".
Antes de vos falar do livro e da receita, deixo apenas uma nota:
Esta não é "oficialmente" uma receita do projeto Páginas Salteadas, mas achei que fazia sentido incluí-la nesta categoria aqui no blog, uma vez que consiste numa receita inspirada por um livro.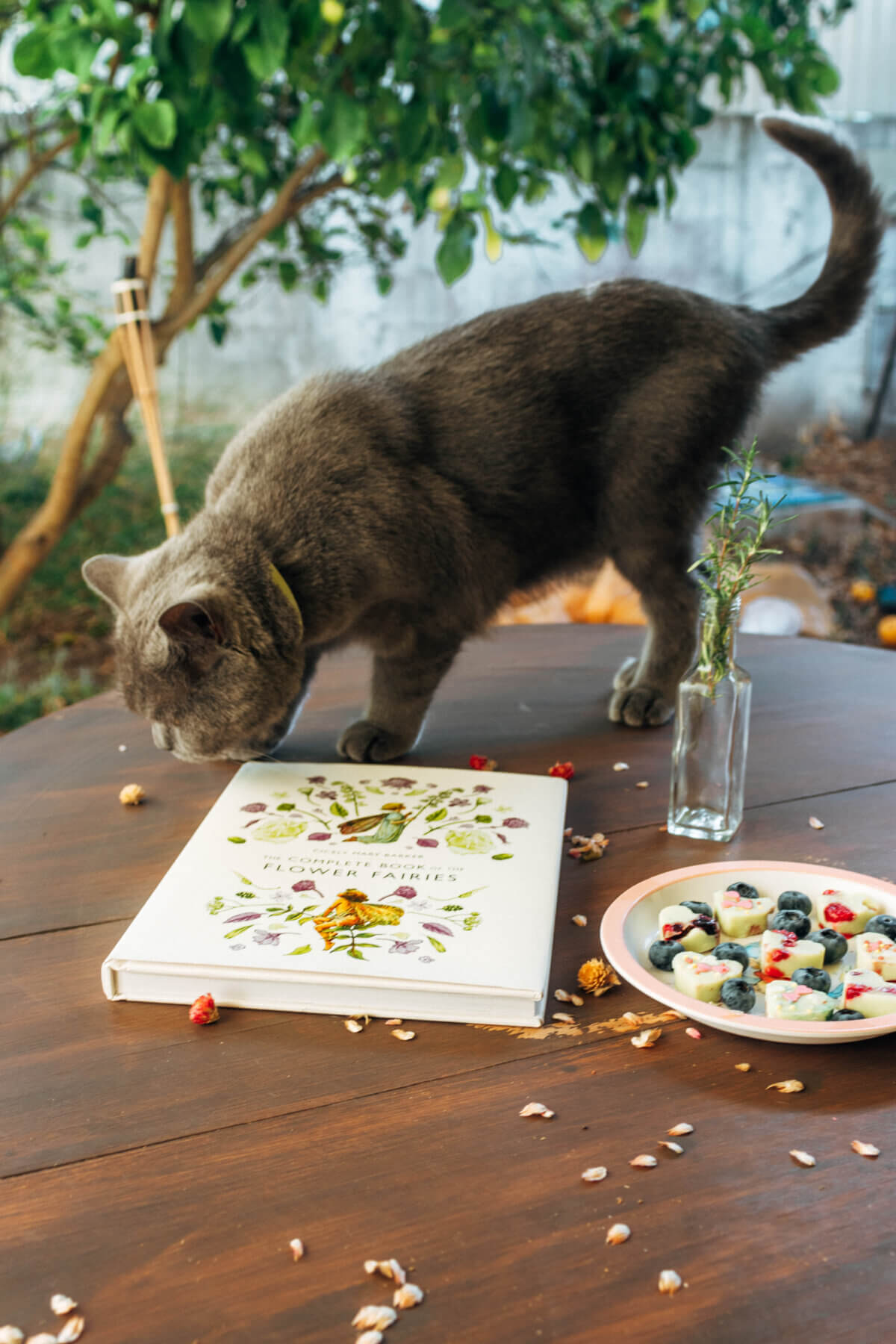 Sobre o livro, The Complete Book of the Flower Fairies
"The Complete Book of the Flower Fairies", de Cicely Mary Barker, é uma coleção de poemas e ilustrações que trazem à vida o mundo mágico das fadas das flores. Cada fada é associada a uma flor ou planta específica, e as descrições vívidas e as belas ilustrações transportam os leitores para um mundo de beleza e encanto natural.
A preparação desta receita é também uma experiência em si mesma. Selecionar a fruta ideal e sazonal que fique bem com este tipo de chocolate, derreter o chocolate até ficar suave e sedoso, e depois combinar estes ingredientes para criar algo verdadeiramente especial é uma forma de celebrar a abundância do verão e a magia das fadas das flores.
A minha receita de chocolate branco com fruta é uma homenagem a este livro e ao Verão. A combinação de chocolate rico e frutas frescas e suculentas é uma representação perfeita da harmonia entre a natureza e a imaginação que é tão evidente em "The Complete Book of the Flower Fairies". Tal como as fadas das flores, cada pedaço de fruta desta receita traz a sua própria personalidade e sabor único, contribuindo para um todo delicioso e harmonioso.
A parte da imaginação também está presente na apresentação: pequenos corações e chocolate branco tornado verde-menta apenas com umas poucas gotas de corante alimentar; um pequeno pormenor para que olhos também "comam" e todos os sentidos se sintam em festa.
Ao saborear esta receita, somos lembrados das maravilhas do verão e da beleza que se encontra na natureza e na imaginação. É uma forma de trazer um pouco da magia de "The Complete Book of the Flower Fairies" para a nossa própria cozinha e de celebrar a alegria e a beleza do verão.
A receita
É quase demasiado simples para descrever, mas vamos lá!
derrete-se o chocolate branco em banho maria ou num fondue (eu tenho um fondue pequenino e elétrico e fiz aí);
juntam-se as gotinhas de corante alimentar (opcional);
coloca-se o chocolate derretido em forminhas (eu tenho os corações);
colocam-se as frutas por cima (eu escolhi mirtilos e groselhas);
colocam-se as formas no frigorífico.
E é isso! Um twist super simples para tornar uma simples tablete de chocolate branco numa experiência prazerosa para todos os sentidos. 🙂
Da próxima vez que estiverem a desfrutar de um belo dia de Verão, porque não experimentar esta receita de chocolate com fruta? Pode ser que descubram a vossa própria fada das flores algures na paisagem estival.
Se quiserem espreitar outras receitas do projeto Páginas Salteadas aqui no blog, basta clicarem aqui!