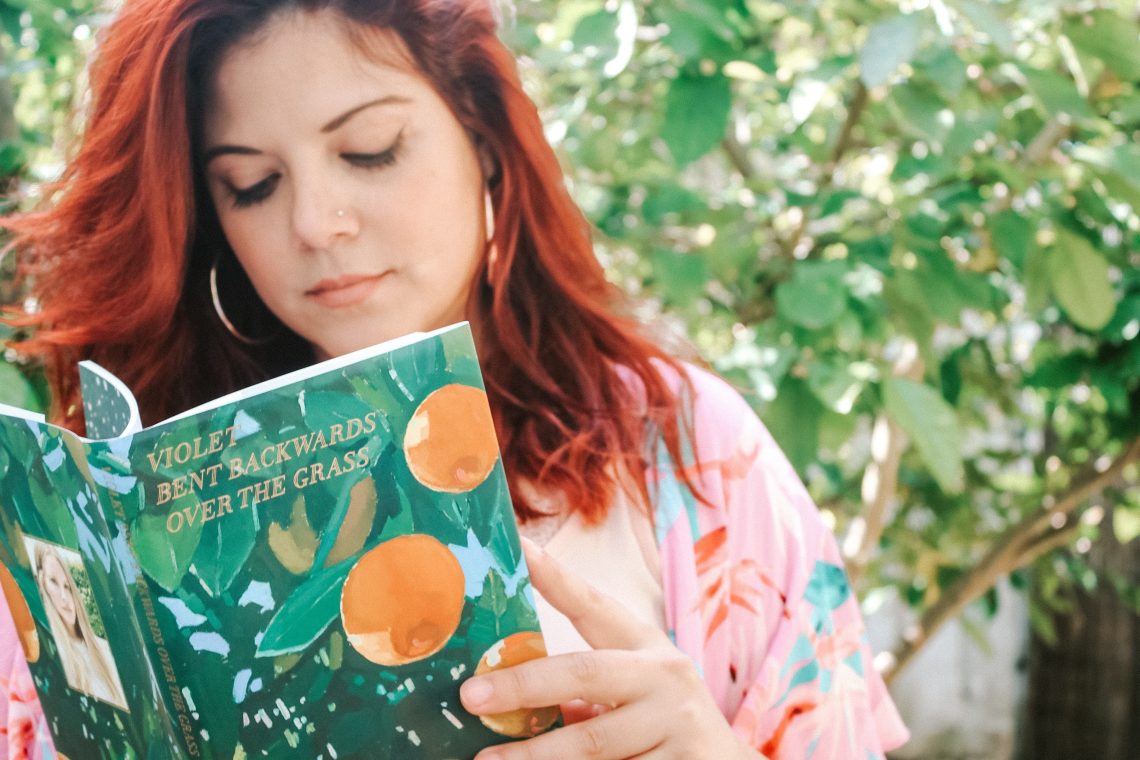 Páginas Salteadas: Violet enjoying a cocktail under the lemon tree
Escolher o livro para o Páginas Salteadas de Março não foi nada fácil. Gostei muito do de Fevereiro e ainda não tinha feito bem a digestão/luto do final desse livro. Mas eis que me deu um click e decidi – finalmente – pegar no meu exemplar do livro de poesia da "minha" Lana del Rey. Não é segredo nenhum que gosto muito dela e da sua música, mas… será que o livro está à altura?
O livro: "Violet Bent Backwards Over the Grass", de Lana del Rey
Parece que, hoje em dia, está na moda algumas celebridades lançarem livros de poesia e depois de alguns mixed feelings sobre o "the sun and her flowers", de Rupi Kaur, não teria as expectativas altíssimas se não fosse o livro da Lana del Rey.
Sabem, eu considero a Lana uma visionária; ela não faz apenas música; ela escreve letras lindíssimas, dramáticas, misteriosas e, mais que isso, constrói todo um imaginário em torno de cada álbum que lança.
Nem vos sei bem explicar de que forma este pequeno livro de poemas me "bateu"… há algo de muito mágico e inexplicável no estilo de escrita da Lana. Cada verso um feitiço, cada conjunto de estrofes uma teia na qual ficamos presos e não queremos mais sair.
Há algo de muito kitsch nos cenários que cria. Imagino o mar, subúrbios de luxo, as auto-estradas americanas intermináveis, a visão do deserto dos lados e pela frente durante quilómetos e quilómetros de estrada.
É isto que Lana nos faz: "obriga-nos" a criar cenários mentais que nos coloquem na mesma ação dos seus poemas, quer queiramos quer não. Eu quero e gosto muito.
Do livro de poemas "Violet Bent Backwards Over the Grass" destaco este pequeno excerto do poema "What happened when I left you", que contém – tal como a receita – o ingrediente deste mês escolhido para o Páginas Salteadas: o limão.
My life is sweet like lemonade now there's no bitter fruit
eternal sunshine of the spotless mind
no thought of you

My thoughts have changed
my voice is higher
now i'm over u
A receita: cocktail simples de Limão & Lavanda
Como já devem saber, em 2021, o Páginas Salteadas não tem um livro igual para todas em cada mês, mas sim um ingrediente transversal a todas as receitas e livros escolhidos por nós. Em março, esse ingrediente foi o limão.
Assim, e em honra dos primeiros dias de Primavera que vivi com muito sol no meu pequeno quintal, decidi fazer um cocktail, até porque já não fazia um para o Páginas há algum tempo. Fiquem com esta simples criação em que o limão é a atração principal.
1/3 chávena de sumo de limão
2/3 chávena de agave
2 onças xarope de limão
1/2–1 colher de chá lavanda culinária (usem 1 colher de chá se quiserem um sabor mais forte de lavanda)
1 rodela de limão
200 ml. vodka
Cerca de 230 ml. de água com gás ou tónica
A receita de Março é assim, simples, como o próprio limão.
A receita de março demorou a sair aqui no blog apesar de já ter sido feita há bastante tempo, porque andei mais ocupada que o habitual por estas bandas. Mas cá está ela! Espero que a de Abril venha dentro do tempo normal. Estou a gostar muito do livro que escolhi para este mês e vai ser diferente de todos os que li até agora em 2021!
Se quiserem ver mais receitas baseadas em livros que li, não deixem de espreitar as minhas receitas do Páginas Salteadas aqui no blog.