O Blogging Tools desta semana é sobre uma descoberta que fiz esta segunda-feira. Mal percebi do que se tratava soube que seria o tema da rubrica desta semana.
This week's Blogging Tools is based on a discovery I made this Monday. The moment I realized what it was I knew it would become this week's BT theme.
Na sequência do curso Blog Life do A Beautiful Mess (que estou quase a terminar) fiquei com curiosidade acerca do tema da monetização dos blogs. A Elsie e a Emma explicam que começaram a ganhar dinheiro com o blog com banners de publicidade. Como se tornaram as "gigantes" e million-dollar company como elas dizem, ainda não percebi, mas hei de lá chegar.
De qualquer forma, a minha pesquisa levou-me a um artigo como tantos outros que já tinha lido sobre o assunto e que estava quase quase a fechar, mas que captou a minha atenção com duas palavras: Passion Fruit. Usar palavras "fofinhas" no meio de outras muito técnicas é a definitivamente o segredo para captar a minha atenção.
Fui então investigar o Passion Fruit. Fui ao site deles e deixei-me ficar. O design e as cores do site são agradáveis aos olhos, outra coisa essencial para captarem a minha atenção. À primeira leitura da landing page não percebi bem de que serviço se tratava, mas ao ler a secção "How it works" fiquei quase esclarecida.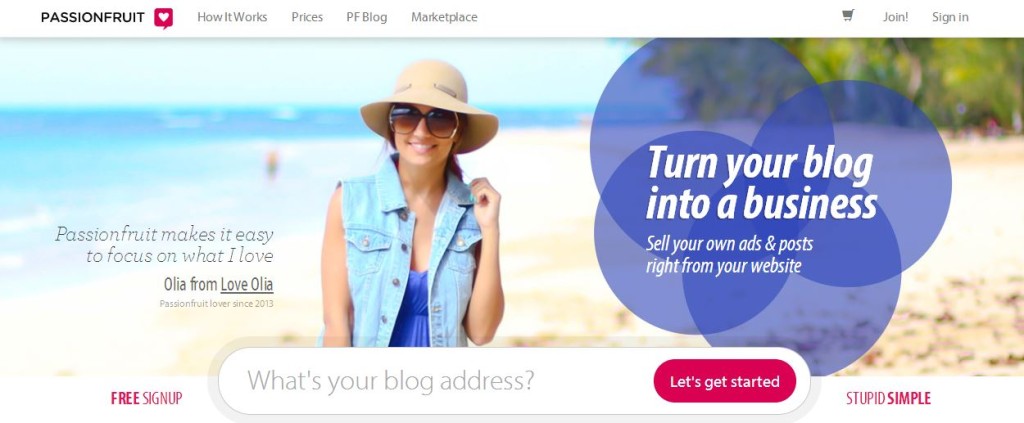 Following the Blog Life e-course by A Beautiful Mess ( I'm almost done ) I was curious about the topic on monetizing blogs. In the course, Elsie and Emma explain how they began to make money with blog advertising banners . How they became a million- dollar company is not yet clear to me but I'm getting there as the course progresses.
Anyway , my research led me to an article like many others I had read on the subject and I was almost giving up on it , but then two words caught my attention: Passion Fruit. The use of "fluffy " words mixed with more technical ones usually does the trick when it comes to getting me to refocus on what I'm reading.
So I decided to investigate Passion Fruit. I went to their website there I stayed for a while. The design and colors of the website are pleasing to the eye , another essential element to capturing my attention. At first reading the landing page didn't quite made it clear what kind of service this was, but then I read the "How it works" section and got a clearer picture.

Preços / Prices
Pois, infelizmente descobri que o Passion Fruit não se trata de um serviço gratuito (embora não seja caro. Vejam aqui os preços), mas que pode ser testado durante 30 dias à borla. E isso mesmo que estou a fazer!
Unfortunately Passion Fruit is not a free service, although it is not very expensive (check out their prices here). However you can and should get a free 30 day trial. And that's exactly what I'm doing at the moment.
Como funciona / How does it work?
O Passion Fruit é uma Ad Platform onde podem criar os vossos próprios anúncios em que vendem algo relacionado com os vossos blogs. Se foram ao Marketplace podem ver imensos bloggers a vender vários serviços, entre eles:
Espaço para colocar banners de outros blogs durante 1 mês
A colocação de um banner em cada post que publicarem durante 1 mês
Guest posts
Serviços de design
Menções em canais de Social Media
Os preços variam imenso. Tanto há quem peça $5 por banner, como quem peça $200. Aqui o que pesa é a dimensão e os números do blog. Refiro-me à exposição do mesmo, claro. Quanto mais elevados os números, mais caros podem colocar os seus preços.
Passion Fruit is an Ad Platform where you can create your own ads and sell them to sponsors. You if go to the Marketplace you'll see a ton of blogs selling services like:
Sidebar space to put another blog's ad (with a link);

In-post ad for a blog or a shop for 30 days (the usual duration)

Guest posts

Design

Social media shout-outs
The prices vary widly. There are bloggers charging $5 for a sidebar banner and others asking for $200. What makes prices vary is the dimension of the blogs who are charging for these services. The higher the numbers, the more expensive are the ads.
"O que posso fazer no Passion Fruit sem pagar" / "What can I do with Passion Fruit without paying?"
Parecendo que não, muita coisa! Quer dizer, depende dos vossos objectivos. Com a opção "Free" só podem ser sponsors, ou seja, nunca podem ser vocês a colocar a anúncios. Calma, não desistam já.
Se o vosso objectivo é fazer dinheiro com o blog, aconselho a versão paga, claro. Mas se o que realmente querem é ganhar mais seguidores, visitas e exposição a públicos diferentes, esta opção serve-vos muito bem. Como? Há bloggers que fazem Ad swap, ou seja, aceitam os vossos banners (são eles que definem os tamanhos) e colocam-nos nos seus blogs com link para o vosso. Em contrapartida vocês fazem o mesmo com os deles. Não é bonito? 🙂 Há imensos bloggers a ofereceram essa opção sem terem que pagar nada. Eu sou um deles, mas já lá vamos.
Well, actually you can do a lot! I mean, it depends on your goals. If you choose the "Free" option you can only be a sponsor but never publish your own ads. Wait, don't give up yet. Bare with me.
If your goal is to make money with your blog then by all means get the paid version. But if what you're looking for is to get more followers, views and overall exposure, then the Free option will do just fine. How? There are many bloggers offering ad-swaps for free. That means that you send them your blog banner, they send you theirs and each put the other's banner on their respective blogs with a link. Doesn't that sound nice? 🙂 There are literally hundreds – if not thousands – of bloggers offering ad-swaps. I'm one of them, but I'll tell you more about this later.
Como estou a rentabilizar o meu trial gratuito / How I'm taking advantage of my free trial
Nos dois primeiros dias limitei-me a fazer Ad swap. Ora desçam lá até ao final da página; há novos banners que não viam lá antes, não há? 🙂 O meu banner do blog está nesses blogs também.
Ontem fiz finalmente os meus primeiros anúncios, que podem ver na página Friends & Sponsors e que durarão até que eu acabe o meu trial. Depois logo irei decidir se quero comprar a minha membership do Passion Fruit ou não.
The first two days I only did ad swaps. If you scroll down to the end of the blog you can see a few banners from other blogs. My blog banner os in those blogs too.
Yesterday I finally created my first ad, which you can see in the Friends & Sponsors page and that will last until I finish my trial. Then I will decide if I want to pay for my Passion Fruit membership or not.
Há alguma alternativa completamente gratuita? / Is there a free alternative to Passion Fruit?
Mais ou menos. Nesta minha pesquisa pelo Passion Fruit descobri o Adproval. Não se paga nenhuma mensalidade para o usar este serviço, mas paga-se comissão sempre que se vender qualquer coisa. Isto não tem nada de mal, mas a verdade é que não dá para quem é de Portugal. É que em vez de permitirem que os utilizadores usem o Paypal para receber os pagamentos dos sponsors, não, tem que ser pelo Amazon Payments, que só funciona nos Estados Unidos. E assim voltamos ao Passion Fruit.
Kinda. While I was investigating Passion Fruit I found Adproval. There's no monthly fee associated but you do pay a little comisson for each sale. Nothing wrong with that, but instead of using Paypal they only let you use Amazon Payments which only works in the US. And so we go back to Passion Fruit…
Outros pontos positivos / Other goodies
Para além do óbvio (ganhar dinheiro e exposição), ao navegar pelo Marketplace do Passion Fruit podemos encontrar inúmeros blogs absolutamente maravilhosos. Eles não têm nenhum tipo de censura (de que eu me tinha apercebido) e aceitam todos os blogs, mas têm tido imensa sorte e só por lá aparecem blogs lindíssimos. Com isso já tenho mais uns quantos na minha lista de blogs que sigo e estou deliciada com o que por lá tenho encontrado.
Por isso, mesmo que não queiram vender espaço nos vossos blogs ou comprar publicidade para o vosso, passem por lá e vejam quem lá anda. Vale mesmo a pena e há blogs lindíssimos. De qualquer forma, continuo a achar maravilhoso o facto de se poder monetizar os nossos blogs desta forma. Acho que ainda não o disse, mas não temos que aceitar qualquer pedido; podemos rejeitar os que não se enquadrem com a nossa estética e visão! 🙂
Já conheciam o Passion Fruit ou o Adproval? O que acharam? Acham que é uma boa ideia vender/comprar publicidade entre blogs?
Já agora, passem na minha página Friends & Sponsors. Pode ser que vos agradece alguma coisa na minha "lojinha". Ofereço dois serviços gratuitos: guest posting e ad swap. Se quiserem já sabem… 😉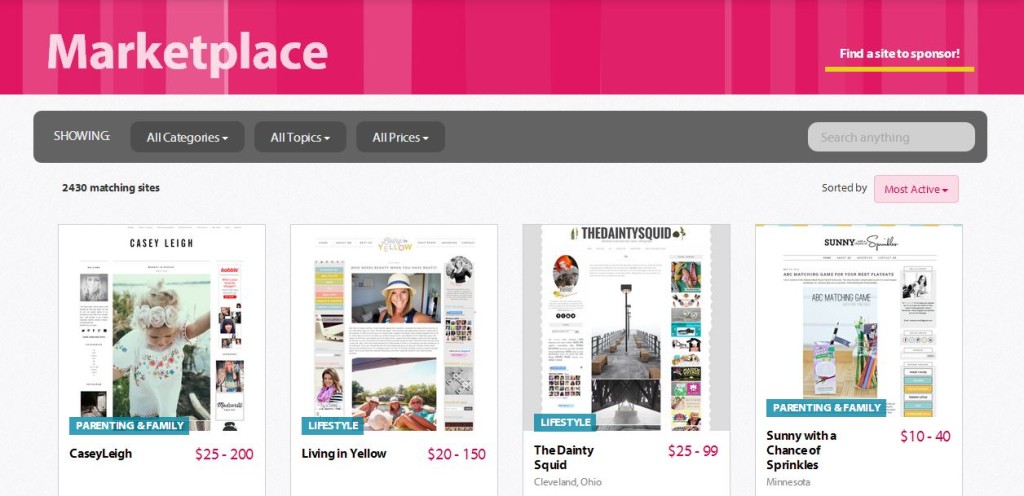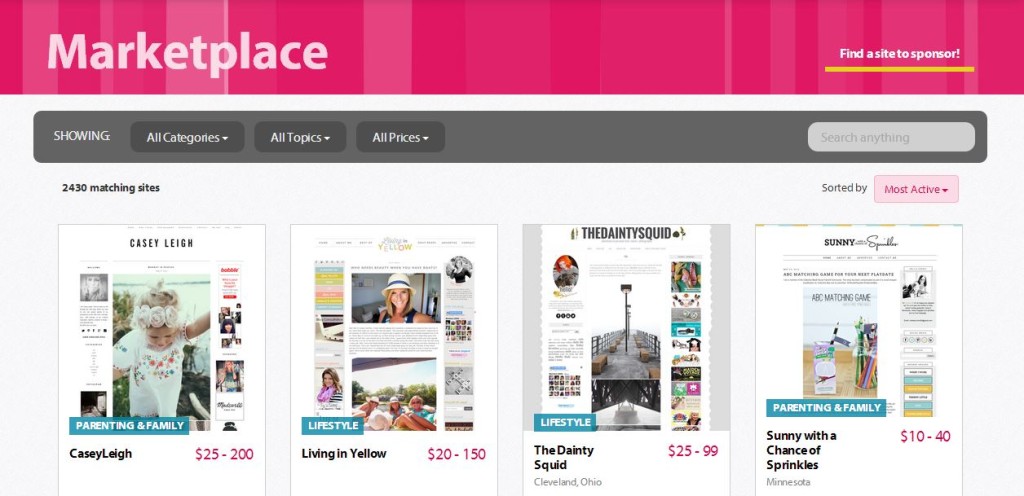 Aside from the obvious ( making money and getting more exposure), when browsing the Passion Fruit Marketplace you can find many wonderful blogs. They don´t have any kind of censorship or style guide (at least that I know of) and accept every blog, but I have only seen beautiful ones and already have a lot more blogs on my list of blogs I'm following. I feel so inspired by what I'm seen there so far.
Even if you have no desire to sell space on your blog or buy from other blogs, visit the Marketplace and check out those blogs. It's really worth it and I'm sure you will feel what I felt the first time I saw it. I don't think I meantioned this earlier but you don't have to accept any application in care you have your own ads running. You can reject the ones you don't think are a good fit to your aesthetic and vision! 🙂
Did you already know about Passion Fruit or Adproval? What did you think? Is it a good idea to sell / buy ads from blogs?

By the way, visit my Friends & Sponsors page, maybe you'll find something interesting in my "shop". I offer two free services : guest posting and ad swap . If you'd like to take advantage of one of them, feel free to request it!