Dizer que Mindy Kaling é uma actriz, comediante e – neste contexto – escritora adorável, relacionável e "material" de qualidade para ser a nossa melhor amiga é, no mínimo, um cliché, mas não é por isso que deixa de ser verdade.
Li o primeiro livro dela – Why is Everyone Hanging Out Without Me" – no verão do ano passado e adorei. Na altura, lembro-me que queria ter feito review, mas o tempo e foi passando e, com ele, a memória fresca após a leitura do livro. Mas desta vez, o Why Not Me, o seu segundo livro, não me escapa. Ou melhor, não me escapou nenhum, mas a review não vai escapar certamente porque – hey – este post já existe. 😉
Vamos a isso? Eu estou pronta!
Que tipo de livro é "Why Not Me?"
Não é muito fácil de descrever o género literário. O livro é, à semelhança do primeiro, uma espécie de conjunto de ensaios repletos de humor e de experiências reais da autora. Aqui a palavra de ordem é mesmo "relacionável". Eu sei, desculpem, mas não há nenhuma melhor para descrever o estilo de escrita da Mindy Kaling.
Facilidade de leitura e melhores locais para ler "Why Not Me?"
Why Not Me é um livro facílimo de ler; facílimo no sentido em que é escrito exactamente como a autora fala. Não sei quanto a vocês, mas eu estou muito familiarizada com a forma de falar da Mindy, assim como com a sua voz inconfundível.Já viram o The Mindy Project, a série criada pela Mindy e na qual ela é a personagem principal? No início de cada episódio, há sempre uma voz off da Mindy em jeito de introdução narrada. É precisamente nesse tom de voz (e com a voz dela) que li o Why Not Me do princípio ao fim.
Quando se tem a voz do autor tão bem guardada na nossa memória e esta é tão peculiar e memorável, torna-se um bocado impossível não ler os seus livros com a sua voz em mente.
Quanto aos melhores locais para ler este livro, diria que são todos. Qualquer lugar é bom para ler quando se adora ler, não concordam? Mas devido à natureza do livro e ao seu conteúdo, que tanto incide sobre a vida profissional e o dia a dia de uma mulher trabalhadora, devo dizer que me deu especial gozo lê-lo em transportes públicos e nas paragens dos autocarros. Na minha opinião, fez muito mais sentido do que quando li o Is Everyone Hanging Out Without Me na praia. É bom acompanhar um dia de trabalho da Mindy (descrito no livro) enquanto vivemos a nossa própria rotina diária de trabalho também. 🙂
Porque é que este livro vale a pena?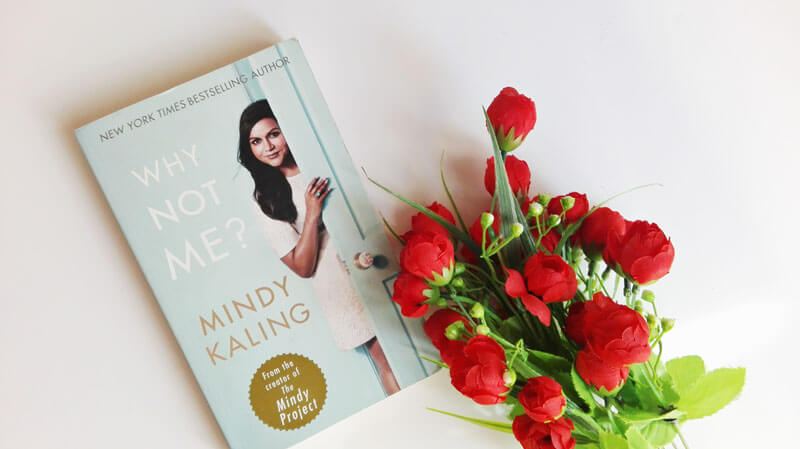 Sempre que pensamos em comprar um livro, formulamos inconscientemente esta pergunta. Por vezes, vamos consultar as reviews, outras vezes vamos à confiança. Quer continuem a ler esta review, quer não, podem bem ir à confiança se são fãs da Mindy Kaling. Garanto que não vão ficar desiludidos. Se, por outro lado, não são fãs ou nem conhecem bem a Mindy, vão gostar deste livro se:
Gostam de humor e/ou têm sentido de humor;
Gostam da Mindy Kaling desde o The Office americano;
Querem saber como pensa e age uma conhecida actriz e escritora de comédia e como enfrenta várias situações e desafios;
Estão curiosos com o "backstage" da vida profissional e pessoal da Mindy Kaling;
Procuram uma leitura leve e descontraída;
Procuram uma desculpa para vir cá concordar ou mandar vir com a minha opinião sobre este livro (para isso têm que o ler primeiro! XD);
Procuram um role-model feminino e bem sucedido (found it!).
Para mim, o livro valeu a pena por estas e por muitas outras razões. Houve um capítulo em particular que parecia ter sido escrito de acordo com uma experiência minha. (Estão a ver porque é que uso tanto a palavra "relacionável" quando falo da Mindy Kaling?)
E depois houve outro capítulo – talvez o mais sério de todo o livro – que me deixou com a cabeça à roda a pensar no que acabara de ler. Era um capítulo dedicado a uma rapariga indiana que perguntou à Mindy como é que ela fazia para se sentir confiante. A frase que me deixou a pensar foi a seguinte:
"I get worried  that telling girls how difficult it is to be confident implies a tacit expectation that girls won't be able to do it."
Mas não vou entrar em muitos mais detalhes. Isto merece um post à parte. 🙂
10 frases memoráveis (e hilariantes) de Why Not Me?
1. "I know I sound like some dour old spinster chambermaid on Downton Abbey who has never felt a man's touch and whose heart has turned to stone, but I don't understand how you could have self-confidence if you don't do the work."
2. "Who is the beauty icon that inspires you the most? Is it Sophia Loren? Audrey Hepburn? Halle Berry? Mine is Nosferatu, because that vampire taught me my number-one and number-two favorite beauty tricks of all time: avoid the sun at all costs and always try to appear shrouded in shadows."
3. "When B.J. [Novak] doesn't like something I write, I am deeply wounded, extremely mad, and vow to never show him anything again. 'Maybe you're not the audience for this?' I respond icily, like I am a relevant, important female voice expressing myself and he is some out-of-touch Brooks Brothers shirt who can't handle my real-ness."
4. "People sometimes sweetly say that I have "child-bearing hips," but what they really mean is that I have hips that will definitely knock over your drink if you are sitting next to me on a plane and I have to get up to use the bathroom."
5. "I wore a tailored Old Navy dress to a wedding last summer and I was a hit. It couldn't have been my personality; I was drunk as hell that night."
6. "Spending a lot of time and energy nursing a breakup is just not a good use of my time now. Which is too bad, because if you heard my haunting rendition of "Will You Still Love Me Tomorrow" while I wept in the shower during a breakup, you would be moved as hell."
7. "I am notorious for making impassioned speeches about things nobody cares about."
8. "In my thirties, I gained a sense of calm that came from professional stability and, although this is not backed by science, a general slowing of my metabolism, which is why I can gain seven pounds from eating one heavy dinner."
9. "I can't for the life of me not eat something that I want to eat. You know how if you turned on a faucet in your sink to wash your hands, the idea of leaving the bathroom without turning it off is insane? That's how I am about ignoring delicious food."
10. "Asking your friend to be a bridesmaid is one of the modern paradoxes: no one actually wants to do it, but everyone would be offended if you didn't ask."
Conclusão
Como já terão facilmente percebido por esta review, adorei este segundo livro da Mindy Kaling, até mais que o primeiro. Sinto que, neste segundo trabalho, os relatos foram ainda mais pessoais (o que é normal), hilariantes e memoráveis. Este é o tipo de livro que eu, se escrevesse sobre a minha vida, gostaria de escrever. Caramba, até gostaria de escrever neste registo aqui no blog.
No fundo, o que eu queria mesmo era ser a Mindy Kaling de alguém (ou representar para alguém o que ela representa para mim… sniff ;_;)
Outra coisa que ficou clara para mim com a leitura deste livro, foi que, escreva a Mindy o que escrever, pode sempre contar comigo como leitora. Que venham mais livros da Mindy Kaling! 😀
E vocês, já leram este "Why not Me?" ou o primeiro livro "Is Everyone Hanging Out Without Me?" O que acharam? 🙂