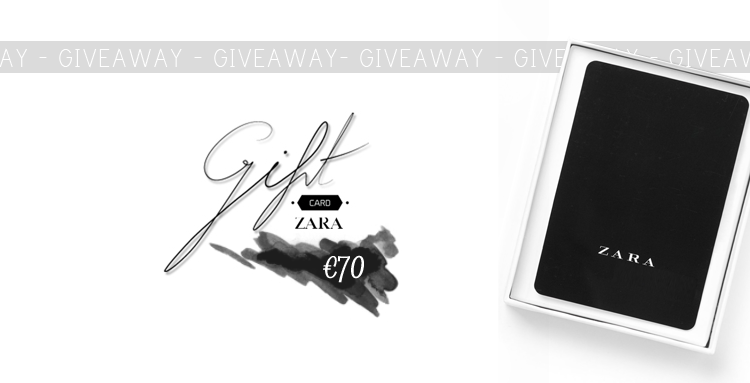 No mês passado, a Catarina do Daydreams contactou-me a mim e a outras bloggers com uma ideia: lançarmos um sorteio em conjunto. Ora, eu que adoro um bom 'trabalho de equipa', disse logo que sim!
E assim, juntamente com a Catarina do Le Fenzberries, a Ana do Make Me Happy, a Sofia do Frames & High Heels, a Ana Garcês do Infinito mais Um e a Margarida do Cai o Carmo e a Trindade, trazemos-vos este fantástico giveaway em que podem ganhar um gift card de 70€ para gastarem na Zara! Aposto que vem mesmo a calhar, principalmente com o Outono-Inverno aí à porta. Já viram o lookbook da Zara?
Com 70€ na Zara podem comprar…
1. Uns botins (69.95€)
2. Boyfriend jeans (29.95€) + camisa (29.95€) + colar (15.95€)
3. Vestido (39.95€) + mala (29.95€)
Bem, são apenas exemplos, a escolha é muita, como sabem. 🙂
Como participar no Giveaway
Como sempre, não podia ser mais fácil! Basta deixarem o vosso gosto na página de Facebook do Joan of July, partilharem o passatempo publicamente (onde quisere: Facebook, Twitter, etc.), deixando o link para a partilha, e deixarem o vosso email.
Sim, são apenas três entradas obrigatórias. Mas, se quiserem aumentar as hipóteses de ganhar, podem sempre completar as restantes entradas. 🙂
O passatempo é válido para Portugal Continental e Ilhas e decorrerá até às 23h59 do dia 1 de Outubro e o vencedor será escolhido via random.org e anunciado no dia 3 de Outubro.
Atenção: Só podem participar através de um blog. Ou seja, se o fizerem aqui pelo Joan of July, não vale a pena fazerem nos outros, uma vez que o formulário do Rafflekopter é partilhado por todas, por isso conseguimos ver facilmente se fizeram batota. 😛
Vá, portem-se bem e boa sorte!