Páginas Salteadas: Summertime Hygge Cake
Se não viram na semana passada no blog da Andreia, o livro deste mês a inspirar as nossas criações gastronómicas é O Livro do Hygge, de Meik Wiking. Hygge é o conceito dinamarquês de conforto, que é também um movimento. Normalmente associa-se mais o Hygge ao Inverno, à busca mais incessante por conforto e aconchego através do calor de uma boa lareira, de mantas, livros, bebidas quentes e comfort food.
Mas… e durante o verão? Não há Hygge? Oh sim, se há, e o Hygge durante o verão está também abordado neste livro. Hygge é o ano todo e quando e como quisermos e nos sentirmos mais inspirados e a precisar de conforto.
Para mim, aconchego de verão rima com frescura. E bolos. Sim, bolo é bolo que seja inverno ou verão.
Este bolo é, para mim, um bom exemplo de um summertime Hygge cake. Tem fruta fresca por cima e na própria massa, crème fraîche, hortelã, pouco açúcar… Têm que ver a receita abaixo… Vão ficar cheios de vontade de provar!
Summertime Hygge Cake – Ingredientes:
1 chávena de polpa de manga
1/4 de chávena de água quente
1/2 chávena de açúcar (açúcar à escolha, pode ser de côco, por exemplo)
1/2 chávena de leite em pó desnatado
1/2 chávena de iogurte natural
1/2 chávena de óleo de semente de girassol
2 chávenas de farinha de trigo integral
1 colher de chá de fermento
1 colher de chá de bicarbonato de sódio
Cobertura:
crème fraîche (podem adoçá-lo com um bocadinho de xarope de ácer ou agave, se acharem necessário);
fruta a gosto e outros adornos naturais (eu coloquei umas folhinhas de hortelã).
Modo de preparação
Pré-aquecer o forno a 180°C.
Untar uma forma
Bater a manga, a água, o açúcar, o leite em pó, o iogurte e o óleo.
Juntar a farinha, o fermento e o bicarbonato.
Mexer muito bem.
Passar a massa para a forma e levar ao forno por 30-45 minutos.
É normal a consistência da massa ficar um pouco como se fosse um pudim; este não é um bolo seco e é o meu género favorito de bolo. Adoro bolos húmidos e saborosos! Não vão achá-lo muito doce, mas o objectivo é sentir-se o sabor da manga e não encher o bolo de açúcar. A fruta deve ser a protagonista. 🙂
Acompanhamento – água com aroma
Para aproveitar as sobras da hortelã e dos morangos fiz uma água aromatizada. É deliciosa, bonita de se ver e não tem nada que saber! Vejam as fotos abaixo: é só colocar os ingredientes (o morango e a hortelã) num jarro e juntar a água. Com gelo fica ainda melhor!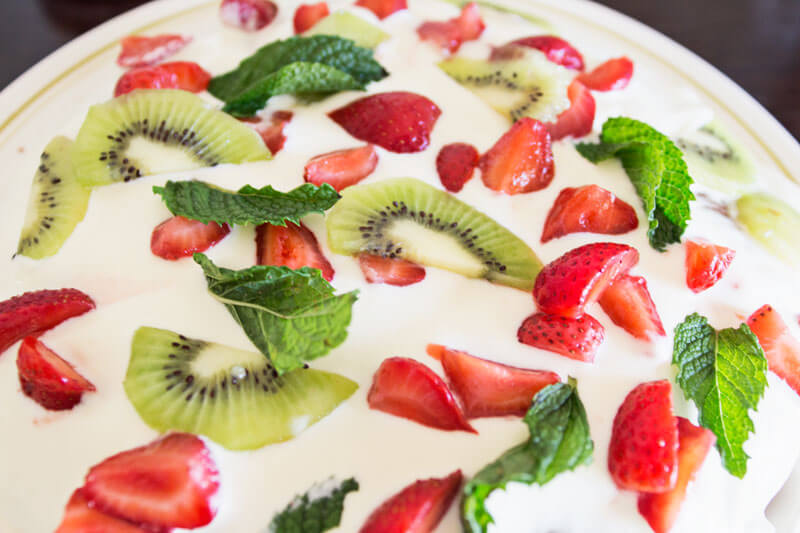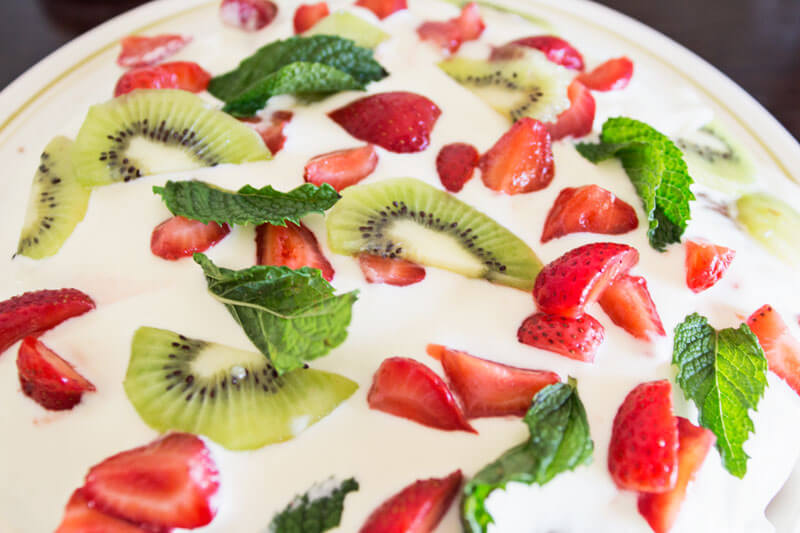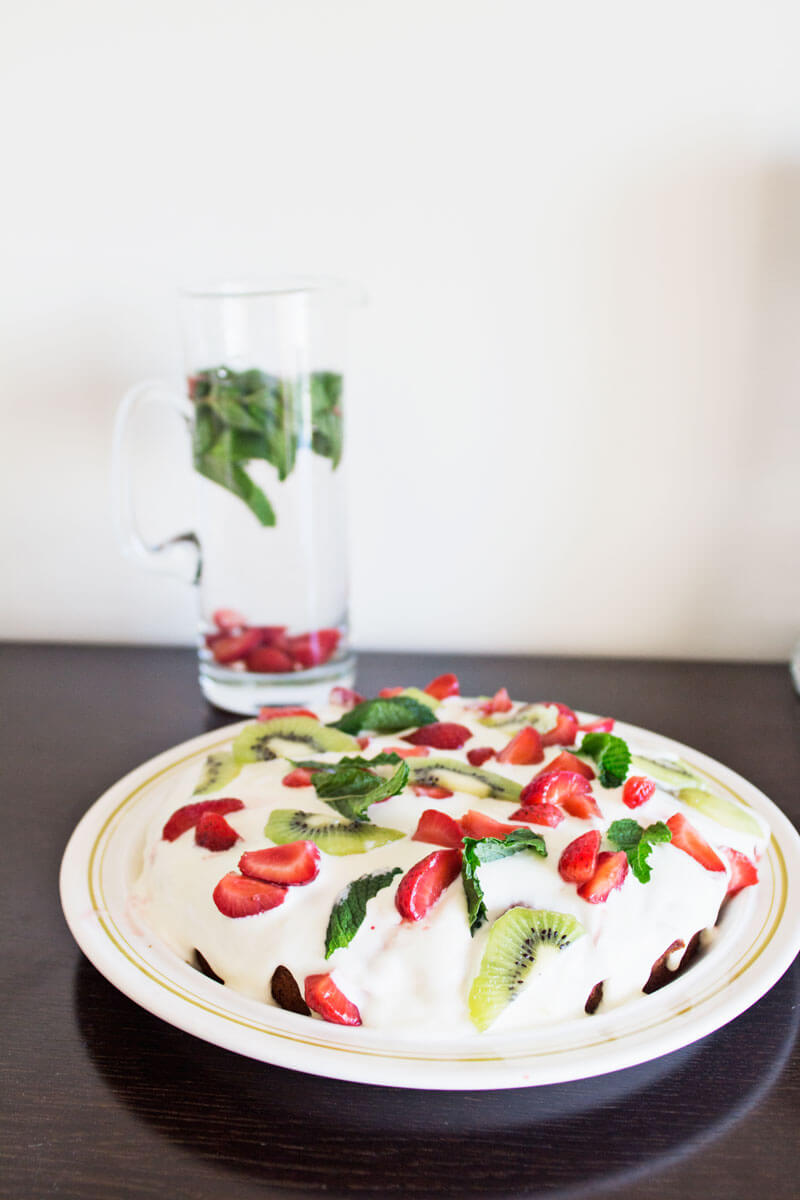 "In the summertime, you are allowed to go for a wider range of colors, even something crazily flamboyant like gray."
― Meik Wiking, The Little Book of Hygge: Danish Secrets to Happy Living
Espero que tenham gostado desta receitinha tão aconchegante para tardes de verão em boa companhia e bebidas frescas. Querem espreitar a receita das Páginas Salteadas do mês passado? Vejam-na aqui.
Convido-vos ainda a visitar este meu post em que falei do Livro do Hygge e do próprio conceito de Hygge com algumas fotos que, para mim, o representam tão bem.
Entretanto fiquem com os blogs das minhas parceiras de projecto (a Andreia já publicou a sua receita Hygge deste mês!):
Joana Clara, Às Cavalitas do Vento
Vânia Duarte, Lolly Taste
Andreia Moita, Andreia Moita Blog