A um escasso dia de fecharmos o livro de 365 dias que foi 2018, eis que me encontro assim, a fazer balanços, a pensar no que passou e a fazer os possíveis por me agarrar ao positivo no meio de tantas coisas más que 2018 me trouxe. É que, por pior que um ano tenha sido, há sempre coisas boas que ficam e são essas mesmo que eu vou querer recordar e trazer comigo para 2019. Aqui, partilho convosco as minhas 5 coisas favoritas em várias categorias.
Começaremos com alguns dos melhores momentos da minha vida, este ano para, depois, entrarmos em campos mais gerais, como a música, os livros e as séries.
5 momentos bons da minha vida este ano
5 Eventos
Concerto Anciients + Black Wizard, em Cascais
Workshop de Herbalismo Mágico da Isa Baptista na Casa do Fauno (ainda não vos falei dele aqui no blog, mas está para breve!)
Workshop de Digital Content Marketing Strategy na Edit
5 Músicas
Catch It – Iceage
The Foyer – Drag Majesty
Dog Years – Daddy Issues
Miss My Lion – Scout Niblett
Hollow Veil – Darkher
Como só pude escolher 5, escolhi estas, mas como fazedora de playlists que sou, tenho uma com as minhas músicas favoritas de 2018 e que podem ouvir abaixo.
5 Livros
Longe da Terra, de Rebecca Makai
Mulherzinhas, de Louisa May Alcott
A Dança dos Dragões, George R.R. Martin
Eleanor & Park, Rainbow Rowell
Histórias Falsas, Gonçalo M. Tavares
Porque leio outros livros para além dos do Páginas Salteadas, alguns deles não entraram no desafio, mas foram à mesma dos meus favoritos do ano, como é o caso do "Longe da Terra", sobre o qual até fiz um vídeo.
5 Séries
Anne of Green Gables (falei dela aqui)
The Good Place (escrevi sobre ela aqui)
Dark (escrevi sobre ela aqui)
The White Queen / The White Princess (vou falar destas duas mini-séries em breve, prometo!)
RuPaul's Drag Race (o mesmo da RuPaul's Drag Race! Se não vos disse ainda, aproveito para dizer agora: sou OBCECADA).
5 Receitas (minhas)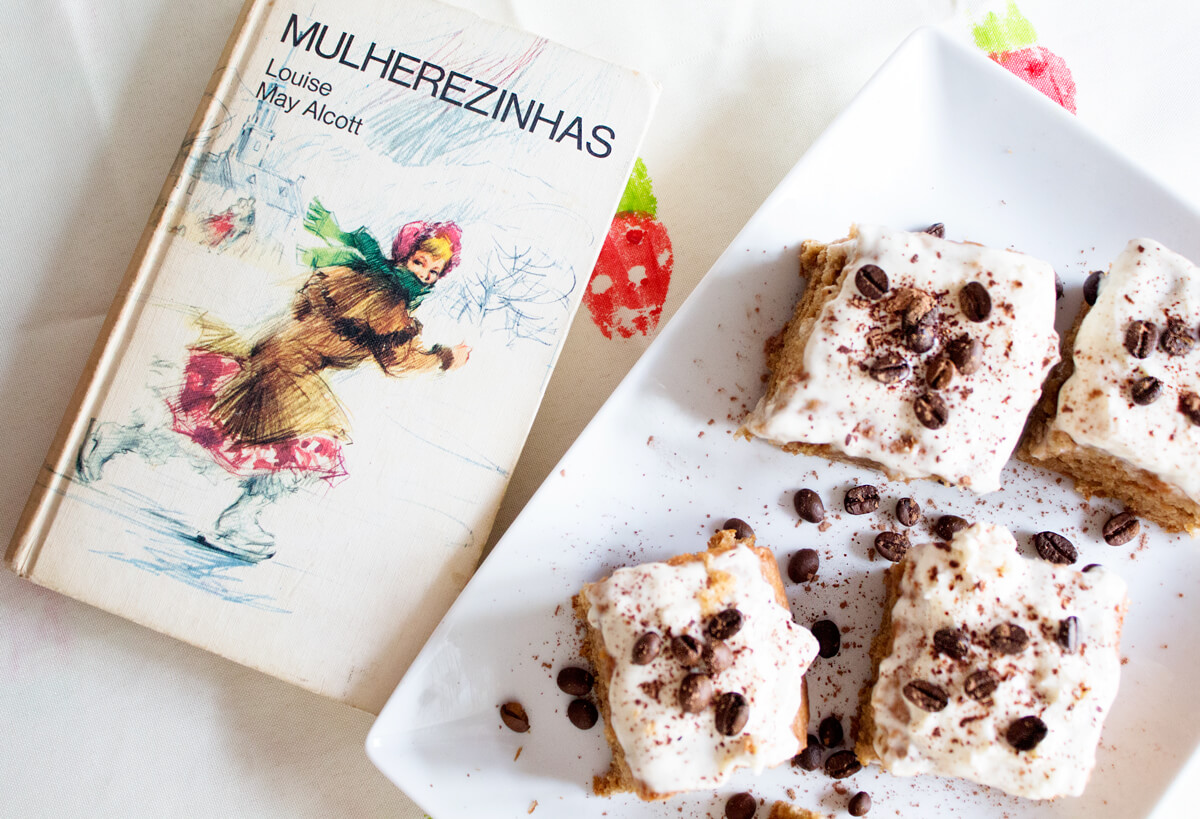 5 Blogs Posts (os meus favoritos, escritos por mim, em 2018)
E, por fim, os meus posts favoritos do Joan of July em 2018! Bem, não foram só estes, como podem imaginar, mas os restantes deixo para a newsletter do blog! (já subscreveram? Está na coluna do lado direito na homepage do blog)
E assim concluo as minhas listas de 5 favoritos de 2018!
Estou quase, quase pronta para 2019! Só mais um post em 2018 (amanhã) e o Joan of July abraça – oficialmente – o novo ano! 🙂